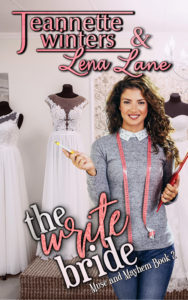 CLICK TO PURCHASE:
Paperback / Kindle Unlimited via Amazon  
Click here to see more books by: Author Jeannette Winters
Danielle Dupree is passionate about love. She helps brides find their ideal dress during the day and immerses herself in the world of writing romance as an author at night. Her life is full, and she is happy.
Zachary Coleman is a realist. As a successful divorce lawyer, he gives all his friends the same advice: get a prenuptial agreement. If they can't protect their hearts, at least he can help them save their assets.
When fate intervenes and their worlds collide, each interaction becomes a battle of wills. Dani refuses to give into his negativity and Zac cringes each time she spreads the fantasy of love. Yet despite their difference, sparks ignite.
But when the things she loves are ripped away, piece by piece, Dani finds herself caught up in a mystery that she can't solve. Is Zac trying to ruin all she's worked for, or is he really her knight in shining armor?
When the truth is revealed, will the price be the one chance at their happily-ever-after? Or is love truly the most powerful weapon of all?
REVIEWS:
"I fell in love with Dani and Zac's story! Sometime life teaches us one thing, but our hearts show us something differently. This story shows you that. What an amazing job Jeannette Winters and Lena Lane did with this story! I can't wait to read the next book!"
"This is a wonderful book about the romantic write bride! I was touched by Dani's passion for life and love and Zac's ability to take a hard look at his justified misbeliefs about love. Dani works hard designing wedding gowns by day and writing romance by night and becomes the owner of the boutique where she works. Zac's profession is a seriously cold divorce attorney. Dani and Zac must work together to produce dream filled weddings. They also both work on trying to solve the strange mysterious things that are happening to Dani, while Zac examines his confusion regarding true love. Another awesome book by Jeannette Winters and Lena Lane!"