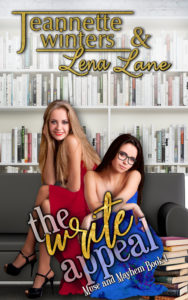 CLICK TO PURCHASE:
Paperback / Kindle Unlimited via Amazon  
Click here to see more books by: Author Jeannette Winters
Two Love Stories, One Book!
Pepper and Prudence Pereira might be fraternal twins, but they have only one thing in common, their passion for writing; one intrigue the other romance.
Attending a readers/writers convention in Las Vegas seemed like the perfect location for much-needed quality sister time. Their fun ends abruptly when drama begins and the police get involved. All the authors are informed that no one can leave Vegas until they are cleared. Now caught up in a tangled web of lies and deception, Pru and Pepper know there is only one way out, find the truth themselves.
In their search, their paths continue to cross with Gerard Hamel and Maxwell Whittaker. They insist they only want to help, yet both seem to have a hidden agenda.
The stakes are high, and the sisters must decide. Will trusting these men land them behind bars, or will they find the only thing held captive is their hearts? Can love be found in the midst of a tragedy?
REVIEWS:
"I loved this story. Can't wait for more."
"The book is brilliant I loved it."